[ts]
We've toyed around with similar panini combinations before: capicollo with apricot jam and cream cheese; mortadella with pineapple-coconut cream cheese (which we liked to call "Mortadella Maui"). This time, we added blueberries into the mix.

To make a brilliant panino, start with the bread.

This is a round herb foccacia from Calabria Bakery (5036 Victoria Drive, Vancouver). This foccacia is amazing. It smells heavenly while toasting or grilling. We've caused many a hungry person some suffering by exposing them to the aroma in their state. (Of course, their patience was well-rewarded.)

We used a 7" round foccacia. (They also have a GIGANTORMOUS 15" foccacia, which we've used before.)



Next, the apricot jam and cream cheese combination that we love.

I added the blueberries at this stage so they'll stick to the cream cheese and jam. (Never mind the pattern. I was just being silly. More blueberries were added.)




Genoa salami was our salumi of choice this time. (Incidentally, this genoa salami we have smelled and looked like lap cheung/Chinese sausage!)


Of course, one mustn't forget salt and black pepper.

I added the black pepper to complement the apricot. The touch of salt was needed to counter the sweetness of the jam, as well as the sweetness of the genoa salami.

Here it is.


pre-toasting

The blueberries worked very nicely here, providing not-too-sweet-a-little-tangy bursts of flavor with each bite. One might even say that they provided some "crunch" to the panino. The herb foccacia made it smell superb spectacular fantastic sensational er... you get the idea.

This Blueberry, Genoa Salami and Apricot Panini will be great for breakfast or brunch. (Or for tea... or for lunch... or for a light dinner... or for a midnight snack... or...)

Blueberry, Genoa Salami and Apricot Panini
Makes one 7" round
Serves 1 to 4 people

1 7" round herb foccacia bread
2 Tablespoons cream cheese
2 Tablespoons apricot jam
1/2 cup fresh blueberries
200 g sliced Genoa salami
salt & pepper, to taste

Cut foccacia in half, making a top and bottom. Open bread like a book. Spread one side with cream cheese and the other with the jam. Spread blueberries evenly on one side and lay out the salami slices on the other. Season with salt and pepper. Close sandwich. Toast or grill as desired. Cut into half or quarters and serve.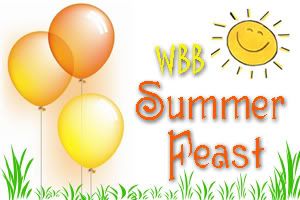 We're submitting this to Weekend Breakfast Blogging.
This edition is hosted by Sia of Monsoon Spice.